How to adopt work from home during pandemic?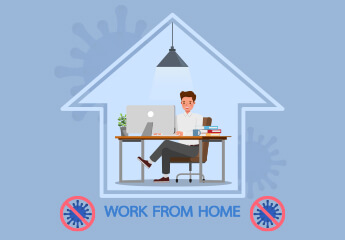 By: admin
Date: May 10, 2021
Category: Blogs
Since the pandemic hit in 2019, navigating through it has yielded several challenges in every aspect of everyday life. Companies have had to suddenly shift to a full remote work model as according to the International Labour Organization (ILO), 68% of the global workforce resides in countries with recommended or required Work From Home (WFH) regulations. What started as a temporary, precautionary measure is now looking like a permanent alternative to the working environment in corporates. Tech companies in general were the foremost players to adopt to ramp up remote work plans for their employees by handing over laptops and establishing a means to keep their services going and growing. 
However, the transition to a WFH structure is not plausible to each and every industry that thrives on consumer interaction for the provision of services or manufacturing roles that need the presence of workers and staff in the factories or production facilities. 
Work from Home challenges faced across industries
It is important to note that not all job functions and tasks can be performed beyond the employers' premise or the specified workplace, making WFH an impractical or non-feasible norm to be followed in the short run. According to the ILO, only 18% of the jobs are suitable for WFH, given the infrastructure prevalent in the country to enable this structure. 
While there exist several benefits associated with WFH, including: eliminating travel expenses and hours, greater autonomy, a better work-life balance, enhanced efficiency, lower costs related to workspace rent , facilities management  and reduction in carbon emissions; both employers and workers may be unprepared physically, mentally or infrastructure-wise to meet all challenges posed by WFH. The following are some of the challenges faced by companies across industries:
Communication:

It is difficult to maintain an effortless communication channel between employees and employers and also between the clients and the company. Solving queries and collective project implementation become tougher. Ensuring that all employees have a stable Wi-Fi connection, and an efficient system to complete necessary tasks is a necessity. 

Equipment and workstation set-up:

technical glitches, system integration, stable internet connection to access the cloud and facilitate real-time solutions should be looked after by the employer. Some employees may struggle with the space to set-up the system, may have disturbances in the house, etc. 

Data Security:

the risks of cyberattacks and confidentiality breaches are higher due to WFH, especially if workers are using their personal laptops or devices to perform official duties and connect to the company network. Companies should have an existing data protection, confidentiality and security policy for this purpose. Having a robust IT  system with the necessary safeguards, anti-virus protection, secured virtual private networks or firewalls against cyber threats installed on the devices are precautionary measures each company should undertake.

Preventing abuse of WFH:

the system can create a lack of trust between the employers and employees, where managers may struggle to assure the amount of work done by the employees. Supervision becomes a tough task. This could result in lack of productivity. 

Mental well-being:

many employees would be inflicted with a sense of loneliness, anxiety or may have relatives suffering for the disease causing depression. They could be worried about possible lay-offs or terminations. It is important to stress that physical distancing does not require social isolation.
How can companies adopt WFH?
The responsibility of successfully implementing WFH arrangements lies in the hands of both the employers and employees. The policies should be practical, flexible and empathetic to each other's situation. In fact, before rolling out the WFH policy, employers should consult the employees about their requirements and must consider the job functions and related challenges the employees could face. Organizations may need to assess some or all of the below-listed considerations:
Assess which job can be done off-site and develop innovative solutions to facilitate remote working. 

Asses mechanisms for regular group/team conferences to enable collaboration like Microsoft Teams, Google Teams and their respective suite applications. 

Assess the infrastructure, facilities and tools like internet and power supply available with the employees to perform their tasks.

Assess the legal requirements, obligations and potential liabilities that may arise due to the WFH scenario.
While some companies may have implemented WFH previously, a majority of them are implementing it for the first time. TCS reported that 85% of their employees around the world were looking for a home as a result of the lockdown. So, the question arises, what can the employers do to maintain a smooth transition to WFH without sacrificing the productivity or well-being of their employees? 
Provide the adequate tools

Companies usually provide work-related equipment like computer hardware, software, host application, etc. Rather than distributing laptops or systems, the company can ask the employees to buy the equipment based on the required specifications and reimburse them for the charges or allow purchases using P-cards or corporate cards. The employees must understand that the equipment, software, data supplies, and furniture, when provided by the company are to be used for business purposes only. They have the duty to take good care of such tools and equipment and shall contact the technology dept or manager if there is any issue with the same.

Establish Communication

Designate communication channels that enable the business to communicate with staff during WFH.  Keep the employees updated about all the developments related to COVID-19 and its impact on company operations, lockdowns and be available for them in case they need any assistance.  Ensure that there exists an exchange of ideas and views on the company strategy and what can be done better. Hold periodic virtual meetings to update workers on the situation, review work and agree on how to deliver the company's services. The salary slips, reimbursement procedure, etc., should be digitalized and a workflow should be communicated to the employees.

Staff Management

Managers, subordinates and their colleagues need to trust each other. Through mutual trust and shared responsibilities with workers, employers can open and transparent discussions about expectations and outputs, including:  when workers will be available and be responsive;  preferred mode of communication, such as online and telephone contact;  managing work-life balance, regular breaks that they will be given and switching off from work at the end of the day. Policies about how performance and reporting will be managed, who workers should contact if they have any work-related issue, etc should be formulated and communicated. Sometimes, employees may find it hard to motivate themselves when working from home and managers should provide practical solutions to such issues. A software like GreytHR that tracks the time an employee signed in to work, the total number of hours worked, breaks taken and attendance can be adopted by the company to supervise the work. 

Compliance

The organization should provide all health and safety precautions and measures to the workers in a WFH environment like general fire safety, electrical safety, working in isolation etc. constant reminders of how the employee must take care of their nutrition, health, Covid-19 related precautions, etc. must be sent to the employees. Ensure that workers are aware of the company's safety and health policy, including the procedures for reporting work-related accidents and ill health. Review the company health policy to ensure it has provisions covering the worker's home for a WFH arrangement. The employees must be aware of the company's liability and insurance policies for injuries that occur during the WFH hours.

Mental Well-being 

The company should regularly contact its employees to make sure they feel supported and being available, accessible and willing to listen when workers need support. They could be provided with flexibility in working hours and how they manage work with house-hold chores. Companies have started offering information and practical tools to support positive mental health, including access to the employee assistance programme. Each employee could be given a point of contact to discuss their concerns. Some companies arrange a fortnightly meeting where employees discuss movies or series they have watched to feel a sense of belonging. There have been organization circles that show pictures of their home work-place set up to share their daily life. Such activities help develop positive relationships and trust among the employees. 
Conclusion 
The pandemic has normalised remote working and several organizations are considering permanently shifting a majority of their business functions to a WFH model. This is going to create a  'hybrid' way of working and will have an impact on how we communicate, connect and create. Organisations that get the WFH structure right may emerge from the crisis ahead and have a special competitive advantage, with policies that employees prefer, and workplaces that are purpose-designed to be vibrant, foster collaboration and productivity for the new way of working.