How AIT Elevates Software Testing Challenges?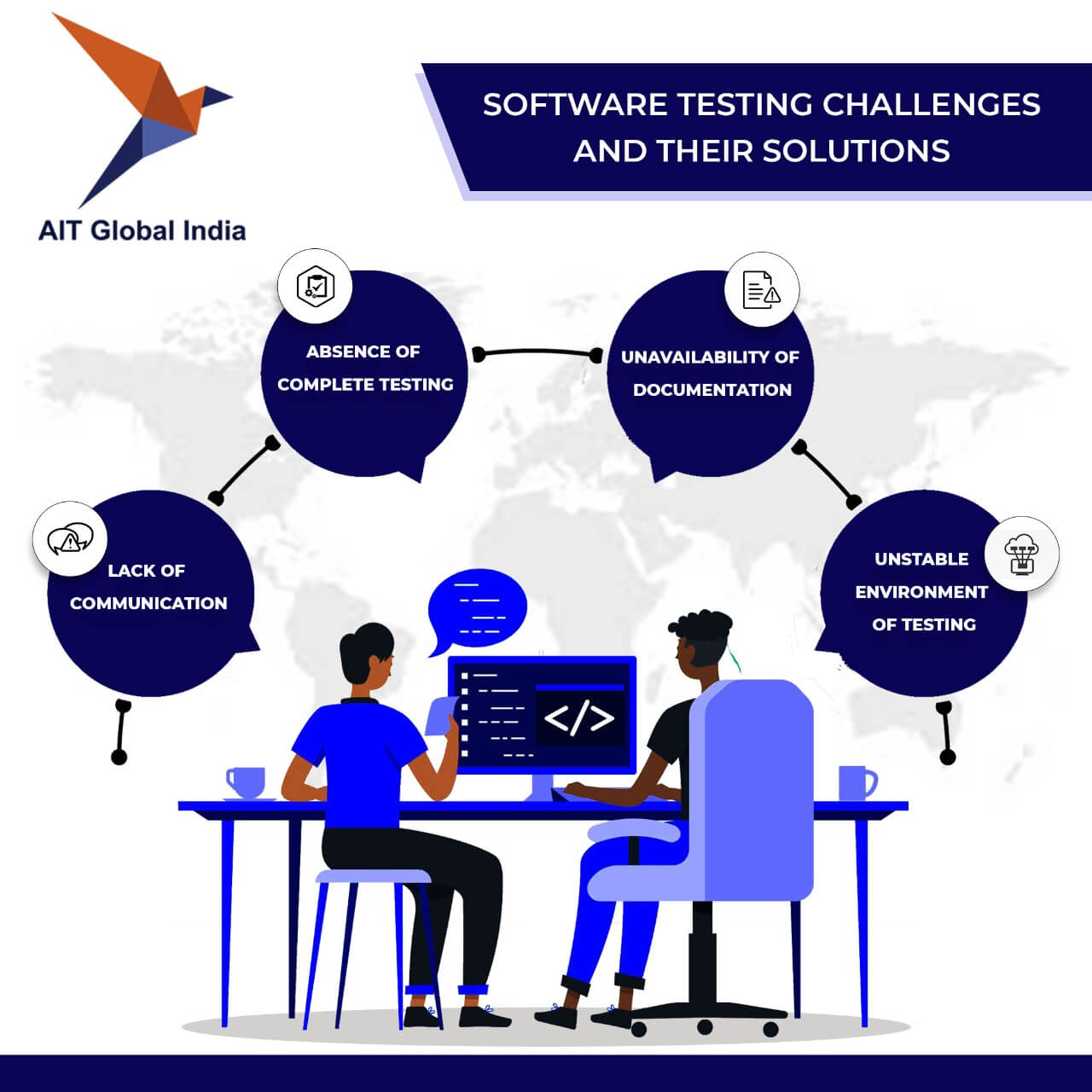 Software testing and quality assurance services help check whether the developing or developed product matches the expected outcome. Product testing can be either manual or automated. It is also an integral part of the SDLC(Software Development Life Cycle). In addition, modern technologies like Artificial Intelligence, Blockchain, Virtual Reality forces the developers and testers to reach the goal of software quality.
There are many software challenges. Let's see how to address them.
Why Is Software Testing Necessary?
Software testing points put the undiscovered critical errors during the software development process. The following are the benefits of efficient software testing :
QA software testing ensures the application's security, so the end-user gets a trustworthy free product.
It ensures application reliability and customer satisfaction.
Low maintenance costs and consistent performance.
Users can quickly and confidently use the application.
Software Testing Challenges And Their Solutions
Lack of communication: Communication gaps can be due to various factors, including shift gaps, different time zones of clients and developers, and many more. It may be between the customer and project manager or between team members, and it impacts the quality of the product. How to solve it: AIT is recognized as the best Software Testing Company, and one of the reasons is their team collaboration. There should be total collaboration during the entire software development phase. At AIT, we carry out the integration of testing and engineering processes. We keep transparency as we know transparency in projects matters a lot to keep everyone together.
Absence of Complete testing: There are a few million lines of code. There are chances of errors. Every section of code must be checked appropriately. There is high demand for software applications in shorter times, so software companies face the challenges of testing the whole process. Due to peer pressure in delivering the final product to clients and project managers, software testing is skipped. What to do: AIT team believes in doing the testing process step by step, and so they should prioritize the list of requirements in identifying testing areas to know which tests are to be carried out earlier.
Unavailability of documentation: Verbal communication leads to a lack of requirement gathering for the software testers and may miss some vital information regarding the project. Solution: The AIT team creates comprehensive documentation of complete requirement analysis. As a result, our software testers understand the project objectives and specifications and prevent software defects by creating the most relevant test cases.
Unstable environment of testing: With the changing requirement specification, developers also make changes in the test environments to fix the issues. When multiple testers are involved in testing a single product, it becomes tedious to track all the changes made by an individual team member. In addition, QA teams need to be updated; otherwise, the application life cycle disrupts. Thus, testing the app with incomplete and inconsistent information becomes difficult. Solution: AIT team can help you by creating an organized and controlled testing environment between the team members and the project managers. Furthermore, a clear description of the changes in product specification should be made. We understand that some problems such as the unavailability of skilled testers, application complexity, improper testing automation process, and many more need to be addressed to attain a defect-free product successfully. We try to resolve them to offer the best quality product.
Conclusion
Handling software applications is a complex task today. Everything needs to be streamlined for achieving successful outcomes. The reliable QA software testing company comprises analysts, testers, developers, and project managers who put the application development process under a single roof. Thus, the best possible version of the software product is released.