Advantages of RPA And Tools Used By AIT To Deliver Best RPA Services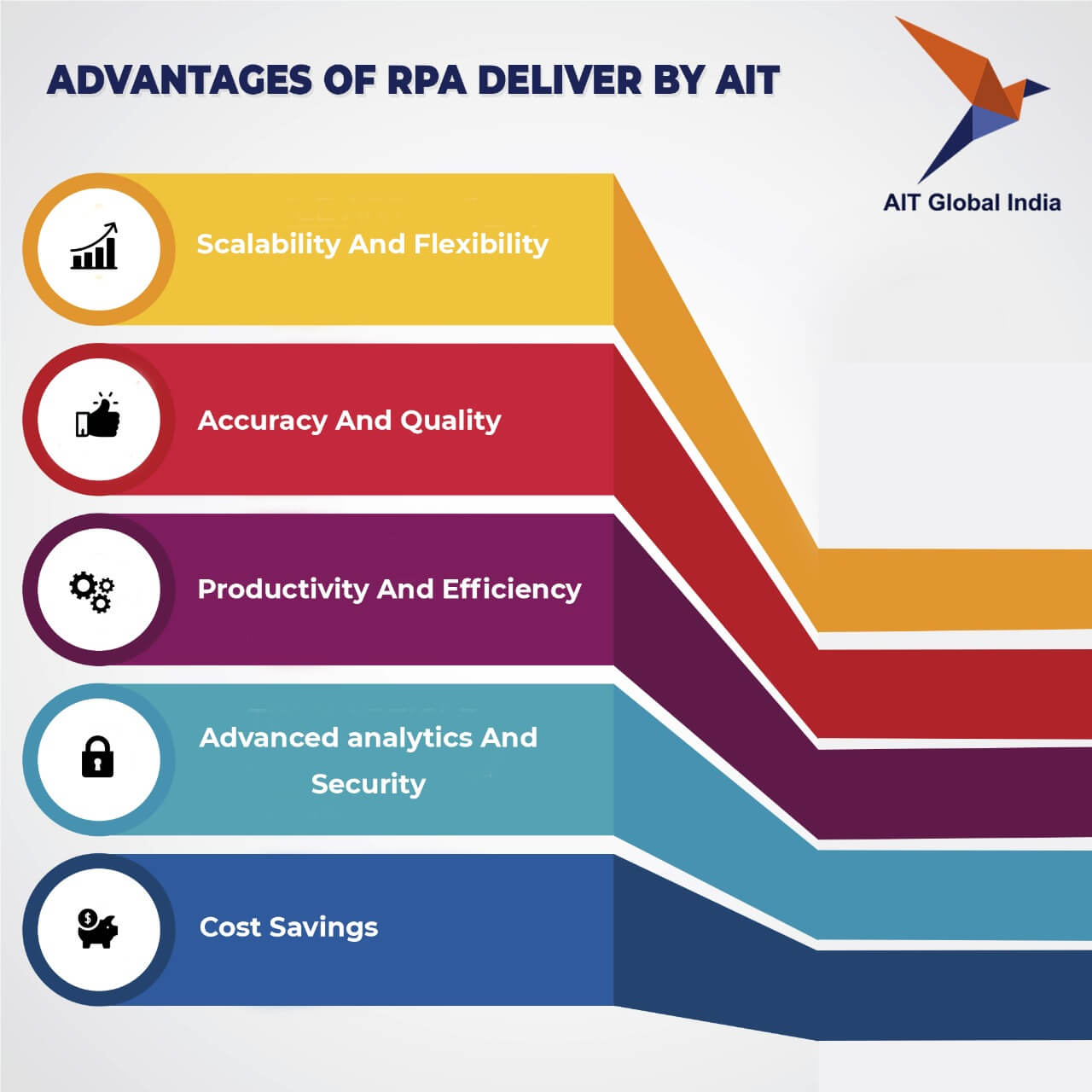 By: admin
Date: Mar 31, 2022
RPA, yet a new technology, has been managing to achieve a lot of attention in the last couple of years. Now business owners and CTOs are taking notice of this. In RPA, a software robot is allowed to mimic human behavior. Like humans, it navigates ERP systems, FSM software and service management tools using the application's user interface. Besides, a robot works faster with more efficiency without slowing down.
The most time consuming and repetitive manual processes are eliminated through the vast potential of RPA. The efficiencies to deliver more accurate intelligence data by providing real-time access to financial data with reporting and analytic capabilities are improved by the RPA.
Benefits of RPA
Below listed are the benefits of implementing RPA for your company:
Reduced cost: The cost of a software robot is less than that of a full-time human employee. Nearly 30% of cost savings can be achieved by task automation.
Operational risk is low: RPA reduces the rate of errors, and so there will be a lower level of operational risk. Human errors such as lack of knowledge and tiredness are also eliminated using RPA.
No replacement of existing IT systems: With the help of using the RPA system and tools, you don't need to replace existing systems. Your existing system is leveraged using RPA precisely as a human employee does. Artificial intelligence frees employees from high mundane administrative work.
Internal processes are improved: Companies are forced to clear up the defined procedures of the government for leveraging AI and RPA. It permits faster internal reporting, onboarding and other internal activities.
Better customer experience: RPA ensures customer success as the deployment of RPA frees up your high-value resources to put back on the front line.
Increased security: As robotic process automation works on a granular level, the risk of data leaking from one facet to another is reduced. RPA bots are designed to perform some specific tasks, due to which there are a lot of advantages to adopting RPA in business security.
Improved communication: RPA automates the task of creation and modification of documents. RPA ensures the timely execution of business processes and operations and the procurement of the latest information.
Productivity is boosted: You need to know that RPA has not replaced human beings; instead, it assists in completing work in less duration. The employees will be more productive than before by implementing RPA. You need to train the employees to leverage the technology to their advantage.
Seize the Opportunities for Scale: If you don't implement automation, you need to shift employees from other duties to handle the information. With the help of robots, you can quickly scale up and down to handle any volume of work. The workflows with irregular volumes are benefitted from RPA.
Application of RPA in various industries
Finance and banking
Manufacturing
Retail
Healthcare
Telecommunications
AIT To Deliver Best RPA Services
You can use RPA as a game-changer technology for your firm by applying it correctly. AIT is an India-based software development firm in RPA. They provide different RPA Tools to offer benefits to your firms. Our team's tasks help them be agile and reasonable by automating manual and repeating tasks and enhancing their accuracy by creating a digital workforce.